Company Name
GSTV Corporation LTD
Established
May 17, 1988
Capital
400 million yen (as of 1/1/2015)
Operating Officer
CEO Toru Imahashi
Business Operation
Creation and Sales of precious metals and marketing via satellite, cable TV, IP, Internet broadcasts and events
Headquarters Location
T2 Building 1F, 2-2-43, Higashi-Shinagawa, Shinagawa-ku, Tokyo
Main Bank
Mitsui Sumitomo Bank West Shinjuku Branch
Mitsubishi Tokyo UFJ Shinjuku Branch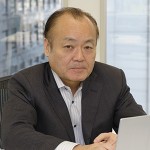 CEO Toru Imahashi In 1975, a private venture focusing on synthetic and semi-precious stones which would later become the GSTV Corporation was established. Soon after, a gemstone trading venture was started with Sri Lanka and Thailand to provide a direct route from mining facilities.
By Providing high-quality gemstones to OEMs and the aid of internet sales, GSTV was able to expand its distribution and revolutionize the industry intertwining itself in the entire jewelry manufacturing process from start to finish.